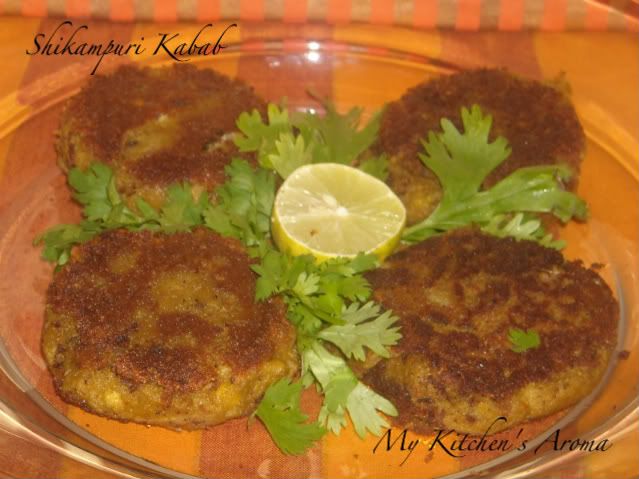 Ingredients:
Kheema/mutton mince 500gms
C
hanna daal 1/4 cup

Oil 2tbsp
Green cardamoms 6nos
Cloves 4
Cinnamon 2 sticks
Pathar ke phool
(optional) 2 bunches
S
hahi jeera 1/2 tsp

Onion 1 Chopped
Garlic 20 flakes
Red chilly powder 1tsp
Turmeric 1/2 tsp
Fresh coriander 2 tbsp
Fresh mint 2 tbsp
Green chillies 2
Oil to shallow fry

For the filling

Hung yogurt 250gms
Onions 1 (chopped finely)
Green chillies 2
Fresh coriender 2 tbsp (finely chopped)

Fresh
mint 2 tbsp (finely chopped)

Black pepper powder 1 tsp
Salt as per taste

1.Heat oil in a
handi
. Add green cardamom, cloves, cinnamon, mountain moss and royal cumin seeds.
2.Stir over medium heat. Now onions and garlic.Saute till done.
3.Add the meat ,
channa daal,
salt, red chillies and turmeric.
3.Now add the coriander, mint and green chillies. Stir.
4.Add 2 cups of water, bring to a boil till the
daal
is cooked and the water is completely absorbed.
5.When the meat is cooked, remove, cool and transfer to a blender and mince.

For the filling,
Take hung yogurt, add onions, green chillies, chopped coriander and mint. Add black pepper and mix it all in a bowl.

Now flatten each mince ball, place a portion of the filling in the middle and cover to make 3/4 inch patties.

Heat a little oil in a kadai and shallow fry the kebabs for 3-4 minutes, till they look brown.