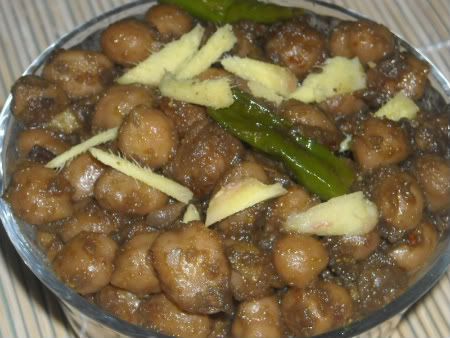 Ingredients:-
Chickpeas 500gms (soaked over night)
For chick peas
Tea bag 1
Soba bicarbonate 1/2 tsp
Salt 2 tsp
Garam masala powder 2 tsp
For the masala
Coriander powder 5 tbsp
Cumin powder 2 tbsp
Amchur powder 2 tsp
Red chilli powder 2 tsp
Garam masala 1 tsp
Black salt 1 tsp
Salt as per taste
Ginger 3 inch cut into juliennes
Green chillies 10
Oil 1/4 cup
Pureed in blender
Onion 1
Ginger 1 inch piece
Oil 2 tbsp
Cumin seeds 2tsp
Make a smooth paste of the above
Method:-
Put chickpeas in a pressure cooker with enough water and add tea bag,soda,salt and garam masala powder.Pressure cook for 5-10 minutes until smooth.Once cooked,drain and reserve water.
Mix coriander,cumin,amchur powder,garam masala,red chilli powder,black salt and white salt.
Take chickpeas in a bowl and add masala, toss well so as to evenly coat the chickpeas with the masala.
Heat oil in a pan,when very hot pour on the chickpeas and shake well.Use a ladle very carefully to mix the chickpeas so that chickpeas do not break.
In a another pan heat 2 tbsp oil,add cumin and chillies .When splutter add the pureed paste.Saute till pink.Add 1 tsp of salt.Now add the reserved water.Simmer for 3-4 minutes.Add ginger juliennes and serve hot.
Recipe source:- The Super Indian Cook Book by Rakesh Puri